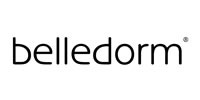 Established for over 30 years, Belledorm has built a reputation in the UK bed linen industry as being one of the largest suppliers of Exceptional Home Linens. The brand has kept at the forefront of design and quality by evolving a diverse range of products over the years, using the most reliable suppliers, the highest quality fabrics and the most fashionable looks.
Belledorm has a passionate commitment to ethically sourcing all of its ranges as part of the Ruia Group's wider corporate responsibility. With products manufactured to an exceptionally high standard with innovation, competitive prices and distinct branding as a priority, Belledorm ticks all the boxes if you're looking for new linen.
Available at our New Milton & Romsey Stores.