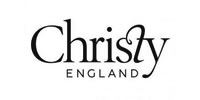 Living Redefined.
As the original makers of the towel as we know it today, the Christy brand continues to be one of the most popular linen creators in the country. From that day, the brand has been filling homes with unmistakably British products, designed with love and made to last.
Christy blend contemporary design with a British sensibility, and due to their deep understanding of the materials used and manufacturing techniques, are a leading brand for bedroom and bathroom linens.
Available at our New Milton & Romsey Stores.