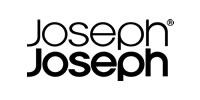 The innovative design of the Joseph Joseph range stemmed from the observation that many everyday objects can actually hinder the user due to the poor design. With the belief that many tasks around the home could be made easier, as well as more enjoyable, with a little intelligent thinking and contemporary styling, Joseph Joseph was born.
Discover a range of unique, functional houseware products from kitchen accessories to bathroom storage solutions, all with a distinctive use of colour, which works beautifully around the home.
Available at our New Milton & Romsey Stores.