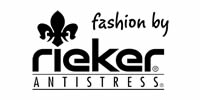 Rieker is a footwear and accessories retailer specialising in shoes and known for their skill of blending fashionable styles with incredible comfort in every product we create.
The Rieker shoes selection includes a huge variety of footwear for men and women, from boots to sandals, loafers to pumps, all striking the perfect balance between fashion and practicality. Reiker have even created their own technology – Rieker Antistress – to ensure that every pair of shoes comes with the best level of support, flexibility and durability.
Rieker; walk in comfort, wear with style.
Available at our New Milton & Romsey Stores.