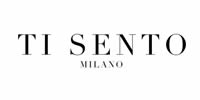 Using sterling silver and stones, the Italian brand has released hundreds of pieces including charms, rings and bracelets in an array of playful, glamorous and dazzling designs. Milano's exceptional jewellery collection was founded in 2003 and continues to grow a reputation for creating fashion jewellery that is accessible and affordable.
No glue is used in the crafting of Ti Sento jewellery – each piece is hand set using diamond setters resulting in high quality manufacturing. Create your own personal style by mixing different designs and pieces.
Available at our New Milton & Romsey Stores.