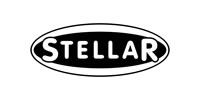 Enhance your cooking experience with the optimal performance of Stellar cookware. Built on years of experience, the collection offers a range of high quality, affordable kitchenware suitable for both contemporary and traditional homes. Each item is thoroughly trialled and tested to ensure ease of use.
The Stellar kitchenware range features over 700 items within its portfolio that extensively cover each kitchen task, from cooking, baking, food prep, eating & drinking to small electricals.
By choosing Stellar, you choose professionalism, top quality and expertise, which you can pass from generation to generation.
Available at our New Milton & Romsey Stores.