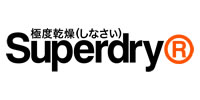 The contemporary brand is known for its high-quality products that fuse vintage America and Japanese graphics with British style. With vintage washes, unique detail, hand-drawn graphics and vintage washes, Superdry uses quality fabric for each piece within the range.
From outerwear and shoes, to tops, bottoms and accessories, Superdry can cover any occasion. Keep things fashion-forward and update your look with on trend pieces from the new season collection.
Available at our New Milton & Romsey Stores.