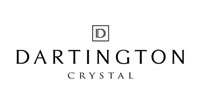 As the leading UK glass manufacturer in the UK, Dartington Crystal (or Dartington Glass, as it was known until the 1980s), was born in North Devon and was quickly recognised as a trusted manufacturer of simple, yet functional glassware. Dartington's vision was built on a clean and simple design style, handmade using age-old techniques of Scandinavian roots.
As well as supplying retail stores throughout the UK and export markets, Dartington supply many leading businesses and luxury brands with bespoke and exclusive products.
Available at our New Milton & Romsey Stores.