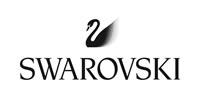 Explore the world of Swarovski crystal and treat yourself to premium jewellery, figurines, ornaments, watches, home accessories, fashion accessories and much more from the range. As one of the most popular jewellery brands in the world, you're bound to find that special piece to complete your look.
In 1891, Daniel Swarovski's vision was to create 'a diamond for everyone'. Since 1895, the mastery of crystal cutting has defined the brand by enduring a passion for innovation and design, making it the world's premier jewellery and accessory brand. Today, the family carries on the tradition of delivering extraordinary everyday style to women around the world.
Available at our Romsey Store.