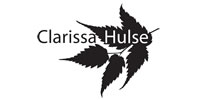 If you're looking for soft furnishings with a botanical theme and bold colour, a Clarissa Hulse design may be the perfect finishing touch for your home. With an emphasis on the beauty of nature, her range will transform a room without having to start from scratch.
From a small collection of silk cushions, the Clarissa Hulse range now includes bed linen, lampshades, towels, ceramics and gifts, plus two multiple award-winning fabric and wallpaper collections.
Available at our New Milton & Romsey Stores.