Bradbeers Removals & Storage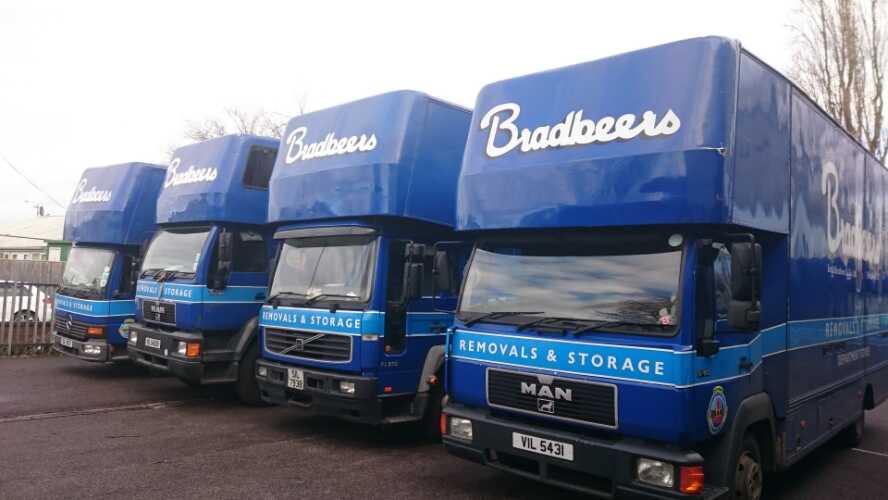 As a family-run removal company with years of experience, and 'Safe Moving' as our motto, you can be sure that all of you belongings are as safe with us as they are with you.
Our team of experienced house movers, offer a wide ranges of services including packing, removals, house moving, storage and even international, and can create unique removals and storage packages to suit your requirements.
Our service has been provided to customers both domestic and commercial for many decades, locally, nationally and worldwide, and we pride ourselves on our reputation.
Address:
Budds Lane, Romsey, Hampshire SO51 0EZ
Telephone:
01794 523022 Fax: 01794 523320
Office hours:
8.30am to 5pm Monday to Friday
Website:
www.bradbeersremovals.co.uk
What we offer
Bradbeers Removals and Storage does many things:
Removals locally and nationally
Removals to anywhere in Europe, for example, France, Germany or further afield.
Deep Sea Shipping to anywhere in the world on a door-to-door basis.
Containerised storage
Self Storage
Archive Storage
Packaging material sales
Piano Removals
Part loads
Why Use Bradbeers Removals?
Years of Experience
Local Working Knowledge
Professional Pride
We are a small, family run removals company with many years of experience. Most of our staff have worked for us for over ten years. It is a matter of simple, professional pride that we do a good job with a cheerful spirit.
Visit us without making an appointment
We have "probably the best warehouse in the area" and invite you to visit us and ask to see our premises. Turn up any time – you don't need to make an appointment.
How to find us
Budds Lane in Romsey is located approximately one mile north of the centre on the Stockbridge Road (A3057). Coming out of Romsey, go under the railway bridge and turn left immediately into Budds Lane. If you pass the Esso petrol station on the left (or Fishlake Meadows on the right) then you have gone too far.
The removals process
Telephone us to arrange for one of our estimators to come and visit you. Typically this could be four weeks before you think you may need to move.
After visiting you, we will send a written quotation through the post.
To accept our quotation, sign the acceptance form and return it to our office. Faxing is acceptable, but we are unable to accept email because we need a signature. If you don't yet know your removal date then that's ok. Our prefered method of payment is credit or debit card.
As soon as you know your date, telephone our office and ask about availability for your date. At peak times slots are allocated on a first come, first served basis.
We will send you a letter of confirmation. If you are packing yourself, we ask you to come and collect the cartons from our warehouse.
After we have moved you and you have unpacked, we ask that you return the cartons to us so that they may be re-used.
The three biggest mistakes that people make when moving house
Not allowing enough time between exchanging contracts and setting the completion date. For example, if you exchange contracts on a Monday for completion on the following Friday, then you only have three or four days to prepare everything. You will also be living in complete stress, not knowing if you are actually going to move (many, many chains break down at the last minute). Therefore, always insist on having a decent amount of time between exchange and completion, say, three weeks.
Most people want to move on a Friday so that they have the weekend to unpack. This means that removals companies are often very busy on Fridays, especially in the summer and at half term. Avoid moving at these peak times if you can, otherwise book early.
People often think that they can move themselves and save a few hundred pounds. There are a whole host of problems to doing it yourself: –

Estimate how long you think you need to do it – and then multiply that by three.
You will need to ask friends and family to help you, but they will probably break things.
At lunchtime you will need to be out of your property, but in most cases you will not have access to your new property until completion, so you need a van big enough to hold all of your furniture and effects.
Everyone I have ever spoken to who moved themself said, "Never again".